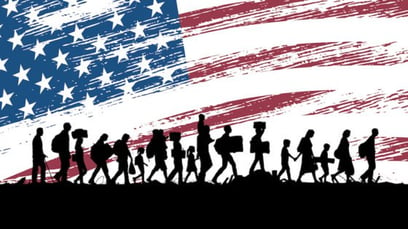 Many people will remember 2018 as one of the most restrictive years for immigration to the United States. As explained by Frank Sharry, head of pro-immigrant group America's Voice, "This is our generation's sort of existential moment… Are we going to continue to be a nation that practices 'e pluribus unum'and welcomes people from around the world to make this country better? Or are were going to continue to shut the door?" Throughout the past year, the answer seems to be the latter.
Asylum, Refugees and Family Separation
One of the most vivid images from 2018 is that of young immigrant children being separated from their parents at the border and put into cages as the Trump administration justified such treatment as part of a "zero tolerance policy" for illegal border entry. Undeniably, 2018 was a year when the United States virtually closed off its borders to immigrants.
Immigration judges rejected a record number of asylum cases this year, refusing 65% of immigrants seeking the refugee status. The number of immigrants allowed into the U.S. to seek asylum dropped by 42% from May to June. A change in immigration language from former Attorney General Jeff Sessions earlier this year severely limited the ability for asylum seekers to establish persecution based domestic and gang-related violence, two forms of persecution that disproportionately impact migrants from Central America.
In addition, the Trump administration lowered the refugee cap to 45,000, a record low, and then admitted only half of that number, 22,491, the lowest number in 40 years. Furthermore, the administration stopped taking applications for the Central American Minors (CAM) program, which allows minors in El Salvador, Guatemala and Honduras to apply for refugee resettlement while in their home country. They also stopped the Obama administration's work with the U.N. High Commission for Refugess (UNHCR) to set up refugee processing centers throughout the Central American region and have rejected UNHCR offers to work with countries in the region.
Changes in the USCIS Policy for Foreign Students and Exchange Visitors
On August 9, 2018, the United States Citizenship and Immigration Services (USCIS) issued a new policy that radically changed how the agency determines whether a foreign student or exchange visitor is "lawfully present" in the United States. Under the new policy, foreign nationals are permitted to stay for a shorter amount of time, which may deter them from pursuing higher educational and valuable career opportunities in the United States.
The Implications of "Buy American and Hire American"
In April 2017, Trump signed his "Buy American and Hire American" executive order, which restricts U.S. employers' ability to recruit foreign labor, specifically temporary H-1B visa holders, in the name of "protecting American workers." H1-B visas allow employers to hire foreign workers with specialized skill to fill jobs that they were not able to fill locally.
It is bad enough that the H1-B program is a lottery program limiting the number of visas issued each year to 65000 and 20000 for Graduates of U.S. Masters or higher degrees. These visas have all been exhausted in the first week of April for many years. This year we are still waiting on decisions on cases filed on April 1, 2018even though traditionally the start date should be October 1, 2018. Denials and Requests for Evidence issued by USCIS is at an all-time high.
It is still not completely certain what implications Trump's anti-immigration policies will have on the H1-B program in 2019. First, USCIS has announced a proposed program to register Employers prior to filing an H1-B application and a new way of selecting participants for the program.
Under the new proposed rule, employers planning to file H1B petitions for next fiscal year are required to pre-register with USCIS electronically during a designated registration period. If USCIS receives more than required number of petitions for the cap, then they would conduct random selection for the registration received during that period. Only if selected after registration would an employer file an H1-B application within 60 days of selection. USCIS would keep unselected registrations on reserve in system and use them if needed to meet the quota cap as needed.
In addition,USCIS will reverse the order in which they will do the lottery. Under the new proposed rule, the first lottery is done from the entire pool of registrations to meet the regular quota cap of 65,000 and then a second lottery is done only for US Masters or higher degree applicants to meet the 20,000 H1b visas reserved for this with category.
The final period to comment on this registration program ended on January 2, 2019. It is unlikely a glitch-free program can be effective prior to April 1, 2019.
Yet with all these restrictive policies, on January 11, 2019 President Trump stated that he intends to simplify the H1-B program and introduce a path to citizenship so that America can retain the best and brightest in the USA.
Maybe he is finally getting it or maybe it is just fluff--another one of his tactics to divert from major issues at hand including the Government Shutdown. I hope I am wrong. 2019 may well reveal whether Trump's changes do in fact drive skilled foreign nationals to or away from seeking employment in the United States.
Hope for 2019: USCIS Revises its Policy on Stem OPT Eligibility at Off Site Locations
The Trump administration and USCIS revised and/or interpreted a few policies in ways that suggest we may see some more favorable immigration policies in 2019. For example, in August, 2018, the USCIS expanded the number of locations at which specialized foreign nationals could work. Under the 2016 STEM optional training rule for F-1 students, the USCIS stated that the training experience for F-1 students must occur at the employer's principal place of business or a location to which the United States Immigrations and Customs Enforcement (ICE) has authority to make visits. On August 17, 2018, the USCIS changed course, providing that the employee may work at a third-party site as long as certain conditions are met. This revision to the policy will hopefully encourage innovation in technology and science by encouraging more foreign nationals with specialized training to remain in the United States and work.