IMMIGRATION ALERT -- PREPARE TO FILE CAP H-1Bs APRIL 1, 2013 OR WAIT 18 MONTHS TO HIRE NEW H-1B CAP SUBJECT WORKERS!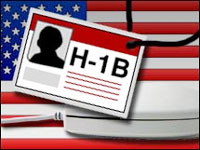 The annual H-1B Cap Season for U.S. companies (other than institutions of higher education and non-profit research institutions) will be opening in less than two months! Predictions are this Season will be the shortest since the start of the Great Recession. There will likely be only a few weeks, or less, during which private industry employers are able to file H-1B visa petitions for start dates on or after October 1, 2013 when the Fiscal Year (FY) begins.

Each FY, 65,000 H-1Bs become available for what is referred to as the "General Cap" and 20,000 become available for what is referred to as the "Master's Cap." Foreign nationals holding a U.S. Master's degree or higher fall within the Master's Cap; all others fall within the General Cap. The H-1B filing season opens six months before the beginning of the FY, i.e., April 1, provided that it falls on a weekday.

This H-1B season will likely be the shortest since FY 2009, when 165,000 H-1B petitions were filed within a five-day period at the beginning of April, 2008, and U.S. Citizenship and Immigration Services conducted a lottery to select the petitions that would be awarded a Cap H-1B visa number. After the start of the Great Recession, the demand for H-1Bs decreased dramatically, resulting in significantly longer Cap Seasons. As the U.S. economy continues to recover and demand for new hires continues to rise, however, we anticipate the H-1B Cap will be reached this year within the first few weeks, if not the first week.

Thus, there is speculation we will be returning to the days of March madness, with employers scrambling to prepare and perfect their petitions before the filing widow closes. Private industry employers wishing to secure a FY 2014 H-1B Cap number should be prepared to file their petitions no later than April 1, 2013 or risk having to wait until October 1, 2014, before new nonimmigrant professional workers can be hired.