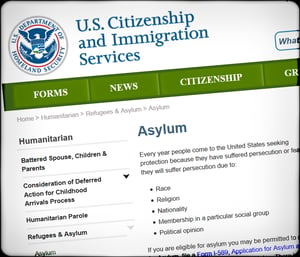 On June 11, 2018, Attorney General Jeff Sessions ordered federal judges to stop granting asylum to the tens of thousands of applicants who claim to be fleeing their countries due to domestic abuse and gang violence. Sessions determined that refugee or asylum status should be limited only to those individuals who can establish that the persecution they are suffering in their country of origin is based on their membership in a "particular social group" with a "common immutable characteristic." Sessions asserted that, in the majority of cases, victims of domestic violence or gang related persecution did not constitute membership in such a group.
Sessions wrote:
"…The mere fact that a country may have problems effectively policing certain crimes or that certain populations are more likely to be victims of crimes, cannot establish an asylum claim. To be cognizable, a particular social group must exist independently of the harm asserted in an application for asylum."
This decision sets an exceedingly high bar for victims of crime to qualify for asylum protection. Not only must the government of the home country be unable or unwilling to help the victims, but the applicant must demonstrate that "the government condoned the private actions or demonstrated an inability to protect the victims." At issue is a part of asylum law that protects members of a "particular social group" who are victims of persecution. This ruling disproportionately affects Central America. In 2016 alone, more than 60,000 individuals from the most violence-afflicted countries in Central America (i.e., El Salvador, Guatemala and Honduras) applied for asylum in some fashion.
The Background of Asylum Protection for Victims of Domestic Abuse and Gang Violence
Sessions' ruling overturns a 2014 decision by the Board of Immigration Appeals in the situation of a woman who had fled Guatemala with her children after being repeatedly raped by her husband. The board concluded that she was a part of a class protected by the asylum statute—Guatemalan women abused by their husbands in a country with an exceedingly male dominated culture-and may be able to prove that her government would not adequately protect her. Many women as well as victims of gang violence have relied on this precedent to apply for asylum.
Sessions claims that this case was erroneously decided because the Guatemalan woman's husband attacked her not because she was a "member of a social group" (i.e., women who are unable to leave their spouses), but because of his "preexisting relationship with the victim." Similarly, Sessions contends that it is unlikely that Guatemalan society "views these women, as horrible as their personal circumstances may be, as members of a distinct group in society" rather than as victims of individual abusers. Along the same lines, Sessions argues that gang violence is simply an isolated incident, not a targeted attack on people who are members of a "social group." Finally, Sessions explains that the failure of local police to address any individual act of violence is merely an inadequate response to a single crime and not indicative of the government's unwillingness or inability to control crime as a whole. Sessions concludes by conceding that although this Guatemalan woman suffered vile abuse at the hands of her husband, the asylum statute was not intended to be a "general hardship" provision.
The Public's Reaction to Sessions' Decision
Opponents of Sessions' decision argue that the impact of his ruling could be sweeping and immediate. They contend that Sessions' claim that gang violence and violence against women is a "private" crime is the exact logic that enabled centuries of domestic abuse without any accountability. They fear that this ruling will have grave consequences for tens of thousands of women in the "Northern Triangle" nations (i.e., El Salvador, Guatemala and Honduras). In addition, opponents point out that the decision is particularly cruel because, even under the previous law, women who were victims of abuse were not simply given asylum. Rather, their status as abused women only gave them standing to apply for asylum. In reality, most people who apply for asylum are unsuccessful. For instance, in 2017, the national rate for denial of asylum claims from Central American countries like El Salvador was 79%.
In contrast, proponents of Sessions' decision contend that the morality of the ruling is irrelevant. Asylum applicants must establish that they are "refugees" as that term is defined by the Immigration and Nationality Act. This requires proof that they are unable or unwilling to return to their native countries based on persecution or a well-founded fear of persecution on account of race, religion, nationality, membership in a particular social group or political opinion. Sessions explains that although an alien may suffer horrific violence in her home country for "any number of reasons related to her social, economic, family or other personal circumstances…the statute does not provide for redress for all misfortune."
What are the Implications of Sessions' Ruling?
Sessions' new limitations on asylum could invalidate tens of thousands of pending claims brought by individuals fleeing violence in their home countries. Sessions' decision applies to immigration courts and the Board of Immigration Appeals, which are overseen by the attorney general. Decisions can ultimately be appealed to the federal appellate courts, which operate independently. Many immigration attorneys believe that such appeals are likely. At the present time, all we can do is wait for the filing of these appeals.
For More Information
Navigating the intricacies of the legal side of applying for a visa is as tough a task. Schedule a meeting with the Pollak legal team today –– we have the insight and the experience to ensure you the best legal counsel for your situation.
––
Karen-Lee Pollak is the Managing Attorney at Pollak PLLC located in Dallas, Texas. She is a frequent speaker, author and blogger on immigration issues. She can be reached at karenlp@pollakimmigration or under her twitter handle law_immigration.