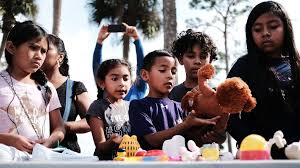 Over the past week, the news has been flooded with horrifying allegations that Trump's immigration policy has forced the separation of immigrant children from their parents at the border and that 1500 of these children have been "lost." It is imperative that we acknowledge that these are really two different issues that have become conflated: (1) are 1500 children really missing; and (2) did Trump's immigration policy cause these children to go missing? Recent reports claim that the United States Department of Health and Human Services ("HHS") has lost track of up to 1500 immigrant children and there have been allegations that these children were forcibly separated from their parents at the border. Outrage over the treatment of children taken into custody at the Southwest border has prompted people to flood social media with tweets and calls to action with the hashtags #Wherearethechildren and #MissingChildren. But how accurate are these claims circulating online? Is Trump's new immigration policy the cause of these missing children? What is really going on?
Trump's Immigration Policy:
Back in early May, the Trump administration announced that it would enforce a "100% prosecution" policy at the border, which would apply to any adult crossing the border illegally. In practical terms, this policy separates children from parents illegally crossing the border because children cannot accompany adults taken into federal custody. As explained by Attorney General Jeff Sessions, "if you're smuggling a child, then we're going to prosecute you, and that child will be separated from you as required by law." To be clear, there is no law nor has there been any law in place that separates children from their parents.
Did Trump's 100% Prosecution Policy Cause 1500 Unaccompanied Minors to go "Missing?"
There is no easy answer to this question. Simply stated, although the HHS did not "lose" 1500 children, there are many unaccompanied minors who are unaccounted for. The reality is that when a child comes across the border unaccompanied, Office of Refugee Resettlement (ORR) looks to find a parent or guardian already in the United States to place that child with as a "sponsor" while they are undergoing immigration hearings. ORR then typically follows up with the sponsor a few weeks after the child has been placed (although the agency is "not legally responsible for children after they have been released from ORR care."). As explained by the HHS Deputy Secretary Eric Hargan, "[t]hese children are not 'lost'; their sponsors-who are usually parents or family members and in all cases have been vetted for criminality and ability to provide for them-simply did not respond or could not be reached when this voluntary call was made. While there are many possible reasons for this, in many cases sponsors cannot be reached because they themselves are undocumented immigrants or just fear immigration and do not want to be reached by federal authorities." In addition, the truth is that these children did not go "missing" directly after the enforcement of Trump's new immigration policy. In fact, ORR officials couldn't locate the children between October and December of 2017—long before this policy took effect. It is not ORR's responsibility to track these children nor should they. ORR cooperates with Immigration and Customs Enforcement (ICE)—the very agency responsible for deportations. Honestly, why would a family update their contact information if they are at risk of their information being transferred to ICE by ORR.
What Are Some Implications of having 1500 Children "Unaccounted for?"
In a separate issue, there are several concerns associated with having so many children separated from their parents including the danger of human trafficking and abuse. In addition, a report by the American Civil Liberties Union alleges that children held at the border suffered a number of instances of verbal and physical violence as well as cases in which children were held past the three-day maximum detainment period. Representatives from the Trump administration counter that this policy is a powerful deterrent for parents seeking to enter this country illegally. The Secretary of Homeland Security, Kirstjen Nielsen explains, "what we [are] doing is prosecuting parents who have broken the law, just as we do every day in the United States of America." Regardless of whether the Trump administration is correct, the fact remains that this punishment is not just a prosecution, but a separation, and we have no safe place to put these children. Should we really punish children for the wrongdoing of their parents?
For More Information
Navigating the intricacies of the legal side of applying for a visa is as tough a task. Schedule a meeting with the Pollak legal team today –– we have the insight and the experience to ensure you the best legal counsel for your situation.
––
Karen-Lee Pollak is the Managing Attorney at Pollak PLLC located in Dallas, Texas. She is a frequent speaker, author and blogger on immigration issues. She can be reached at karenlp@pollakimmigration or under her twitter handle law_immigration.