WASHINGTON: The US Senate has voted to beef up US-Mexico border security with another 1,500 agents and more unmanned aerial vehicles that scan the frontier for undocumented immigrants or drug runners.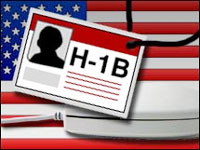 The legislation's $600-million price tag would be paid for by raising fees on what the measure's backers called a handful of foreign firms that exploit US visa programs to improperly import workers to the United States.
A summary of the bill said the funds would be raised with a $2,000 per visa increase in the price paid by specific companies for non-immigrant "H1B" visas for highly skilled workers or "L" visas for intra-company transfers.
"We're talking about foreign companies that more than half of their employees" are on those visas, said Democratic Senator Chuck Schumer. "All we're saying is, you're going to have to pay more for those visas."
"This is not going to affect American manufacturing. This is not going to affect American jobs. What it's going to do is hopefully create some vacancies for Americans at some of these higher skilled jobs that these companies -- foreign companies -- are using the visas," he added.
The measure includes money for 1,000 new US Border Patrol agents to form a "strike force" for quick deployment, 250 new Immigration and Customs Enforcement agents as well as 250 new Customs and Border Protection officers at ports of entry, and to boost communications among law-enforcement officials.
The bill, unveiled by Democratic Senators Chuck Schumer and Claire McCaskill, would also pay for building forward operating bases along the border as well as unmanned aerial vehicles (UAVs) to patrol the border.
"A lot of people now think of drones in the way they've been used in Pakistan, taking out Al-Qaeda, but primary to the drone is their ability to get real-time surveillance," said McCaskill.
"But these are not military UAVs. These are civilian UAVs, so they wouldn't be armed," said Schumer. "There are seven of them right now. And they've been successful."
The legislation must still pass through the House of Representatives to go to President Barack Obama to sign into law.

Immigration question? We have answers. Free phone consultation available 800-969-5529