We all hear scary war stories of attempting to emigrate to the United States. From what one hears and reads, immigration to the United States is not for the faint hearted. However, a lot of misconceptions exist about this process. The secret to success in a smooth transition to moving to the United States, whether permanently or temporarily, is often just a mixture of understanding how the immigration process works and gaining knowledge on the best type of visa for you and your family.
Karen-Lee Pollak, shareholder and immigration practice chair of the AV rated U.S. law firm: Goins, Underkofler, Crawford & Langdon, LLP; will be in Johannesburg to conduct immigration consultations from 20 September to 03 October, 2010.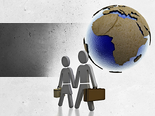 She will be providing consulting services at the law offices of Cyril Ziman & Associates, Inc., located at 43 Keyes Ave, Rosebank, Johannesburg. Please feel free to contact the local office at +27 11 880 9363 or contact Karen-Lee directly via email at karenp@gucl.com in order to schedule an appointment.