Immigration attorney Karen-Lee Pollak explains how to work in the United States with an L-1 visa.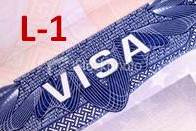 The L-1 or intracompany transferee visas are non-immigrant visas available to employees of an international company with offices in both the United States and abroad. The visa allows such foreign workers to relocate to the corporation's US office after having worked abroad for the company for at least one continuous year within the previous three prior to admission in the US.
Thanks for your comments, questions, and suggestions regarding immigration topics.