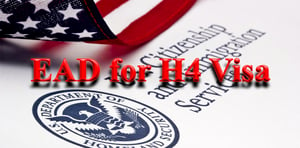 The Trump administration recently reconfirmed its intent to rescind the H-4 visa rule on employment authorization to certain spouses of H-1B visa holders. Under a rule introduced by the Obama administration in 2015, the spouses of H-1B holders who are waiting for green cards are eligible to work in the United States on H-4 dependent visas. The H1-B visa is a non-immigrant visa that permits companies in the United States to employ foreign workers in its specialty occupations. The visas are valid for three years and can be renewed for another three years. The program is popular in the tech community and has its greatest impact on foreigners from South Asia.
Under President Trump's "Buy American, Hire American" Executive Order, the Department of Homeland Security (DHS) intended to rescind the regulation in January. DHS then delayed ruling on this program, explaining that it needed more time to revise its economic analysis of the impact. DHS claimed that it was concerned with the abuse of this program by U.S. companies and was "committed to ensuring the integrity of the immigration system and protecting the interests of U.S. workers, and [to] reforming employment based immigration programs so they benefit the American people to the greatest extent possible." Some experts say the proposed rule change for spouses of H-1B holders is an indication of Trump's pledge in his inaugural speech to bring back lost jobs and "rebuild [the American] country with American hands and American labor. "
Just in the last week, DHS reports that its decision to rescind the H-4 visa rule is under "final DHS clearance" and headed to the Office of Management and Budget after which it will be published and open for comments (usually within 60 days). The H-4 regulation will remain in place until a final rule is published and becomes effective, which typically occurs at least three months from the publication of the proposed rule. Until a rule is passed, it is uncertain whether current beneficiaries of the program will be given a transition period. Both visa holders and employers are strongly advised to meet with legal counsel to prepare for the changes and discuss options for H-4 spouses.
For More Information
Navigating the intricacies of the legal side of applying for a visa is as tough a task. Schedule a meeting with the Pollak legal team today –– we have the insight and the experience to ensure you the best legal counsel for your situation.
––
Karen-Lee Pollak is the Managing Attorney at Pollak PLLC located in Dallas, Texas. She is a frequent speaker, author and blogger on immigration issues. She can be reached at karenlp@pollakimmigration or under her twitter handle law_immigration.