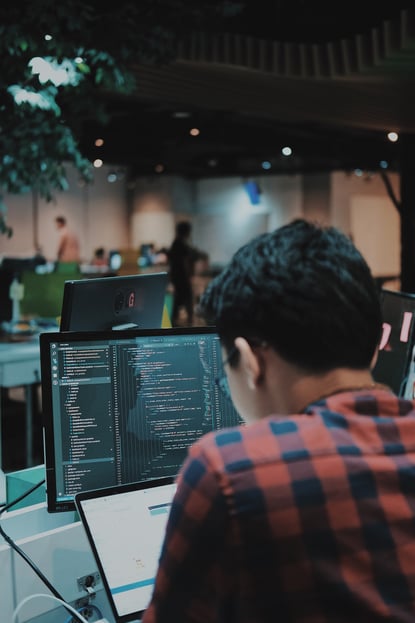 One option for employers needing to bring over foreign talent to fill positions for specialty occupations is the H-1B visa. This nonimmigrant visa allows employees to legally reside and work in the U.S. for an initial period of three years, which may be renewed for an additional three years—possibly beyond these six years with an approved Form I-140 (Petition for Immigrant Worker) filed by an employer.
H-1B visa holders must have a body of specialized knowledge and, typically, a bachelor's degree or higher (or its equivalent) to qualify. Additionally, the degree must be closely associated with the position offered by the employer.
Beyond the fundamentals of H-1B visas, there are a few things you should be aware of if your company is considering using this visa to hire foreign workers. We've compiled 10 of these important considerations below.
H-1B visas are often used in engineering, IT, medical sciences, mathematics, and other STEM fields. This is a natural fit due to the U.S. Citizenship and Immigration Services (USCIS) eligibility criteria.
H-1B visas are subject to an annual cap of 65,000, but there are exceptions. Generally, employers must compete with other companies for these visas as there are always more applications than visas available. Workers who have an advanced degree (U.S. master's degree or higher) have access to an extra 20,000 slots, which effectively brings the H-1B cap to 85,000. Employers should time their needs carefully as registration in the lottery is required in March. Only then, if selected, is the H1-B application filed. Registration is like your ticket in the drawing for a spot.
Employers need to file a Labor Condition Application (LCA) for H-1B workers. After identifying prospective H-1B employees, employers must file the LCA. This certification from the Department of Labor (DOL) attests that H-1B employees will be paid a prevailing wage (a wage similar to those with the same skills and qualifications in the same geographic area). The LCA must also confirm that the working conditions of other employees will not be adversely affected.
Employers need to stay on top of renewal windows. These applications should be renewed at least 6 months in advance of the three-year expiration date so there are no gaps in the worker's ability to work in the U.S. or ability to renew their driver's license. Many H-1B workers wish to apply for green cards while they are on the H-1B visa. Employers must initiate this process for H-1B employees, and this should be done at least two years before the expiration of the six years allowed in H1-B status.
Human resources departments must keep exhaustive records. There is a lot to keep up with when it comes to work visas and related documents. Many professionals recommend keeping a separate file for the immigration documents and materials of employees. By law, employers must keep a separate public access file of key documents in the event the government does an audit of immigrant workers.
Employers need to supply attorneys with their Federal Tax Identification Numbers. Employers often delay sending over tax IDs, which can create needless delays in getting Labor Condition Applications authorized and approved—the first step in filing an H1-B application. This is particularly pertinent for employers who are filing H1-B applications for the first time. Time is of the essence in registering for the lottery and then filing the application.
Employers may pay extra to get expedited processing. To get around the lengthy H-1B visa process, employers may file Form I-907 and pay an optional premium processing fee of $2,500 to get an answer in approximately 15 days. Otherwise, it can take several months to get a decision.
Certain family members of H-1B visa applicants may come to the U.S. on the H-4 visa classification. This only extends to spouses and unmarried children younger than 21. Spouses cannot receive work authorization unless the employee has an approved I-140 Petition for Immigrant Worker.
Employers should promptly notify the attorney if any H-1B employees get dismissed. Attorneys should be aware of the status of H-1B employees working for their clients. If attorneys aren't notified of an employee's exit, the wrong number of applications or extensions may be allocated to a particular employer. Employers are required to notify USCIS when an employee leaves an H-1B employer.
Regardless, employers and human resources professionals should be in constant contact with an immigration attorney. H-1B visas and other work visas are not a set-it-and-forget-it issue for employers, and the laws are constantly changing. For employers, the best way to get the most out of H-1B visas is to continually update attorneys on your foreign worker hiring needs.
Pollak PLLC helps employers and foreign workers obtain temporary and permanent visas to lawfully live and work in the United States. We act as your in-house immigration department for employers that rely on foreign workers. To discuss your legal needs, contact the team today for an initial consultation.