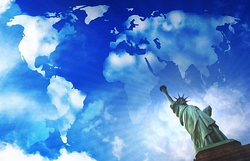 Today, U.S. Citizenship and Immigration Services (USCIS) released new forms and instructions to allow individuals to request consideration of deferred action for childhood arrivals from USCIS. USCIS will begin accepting completed forms tomorrow, August 15, 2012.
On June 15, 2012, U.S. Secretary of Homeland Security Janet Napolitano and President Barack Obama announced that, effective immediately, certain undocumented youth who were brought to the United States as young children, who do not present a risk to national security or public safety, and meet several key criteria will be considered for relief from removal from the country or from entering into removal proceedings. Under the administration plan, certain unauthorized immigrants, will be able to avoid deportation and obtain work authorization if they can satisfy specific key criteria:
Came to the United States before they turned 16;
Have continuously resided in the United States for a least five years preceding the date of the memorandum (June 15, 2012) and are present in the United States on the date of this memorandum (June 15, 2012);
Are currently in school, have graduated from high school, have obtained a general education development certificate or are honorably discharged veterans of theU.S. Coast Guard or Armed Forces of the United States;
Have not been convicted of a felony offense, a significant misdemeanor offence, multiple misdemeanor offenses or otherwise pose a threat to national security or public safety;
Are not above the age of 30.
Only those individuals who can prove through verifiable documentation that they meet these criteria will be eligible for deferred action and work authorization. Individuals will not be eligible if they are not currently in the United States and cannot prove that they have been physically present in the United States for a period of not less than five years immediately before June 15, 2012. Types of evidence include but are not limited to school records, medical records, high school diploma or GED certificate. Those who demonstrate that they meet the criteria will be eligible to receive deferred action for a period of two years, subject to renewal, and will be eligible to apply for work authorization.
In a change from the prior announcement, people currently in removal proceedings will use the USCIS process when it is implemented on August 15, 2012, rather than go through ICE. Only individuals in detention will go through ICE to make a deferred action request. Requestors will use a form developed for this specific purpose.
Requestors will mail their deferred action request together with an application for an employment authorization document and all applicable fees to the USCIS lockbox. Total fees including biometrics will be $465.00
All requestors must provide biometrics and undergo background checks.
Fee waivers cannot be requested for the application for employment authorization and biometric collection. However, fee exemptions will be available in limited circumstances. The four USCIS Service Centers will review requests.
Information provided as part of the deferred action request process is protected from disclosure to ICE or CBP for purposes of removal proceedings unless the requestor meets the criteria of USCIS' November 2011 NTA memo.
If a departure from the U.S. was due to removal, voluntary departure, etc., the absence was not brief, casual and innocent and would interupt the continuous residence that is required since June 15, 2007. Short absences before August 15, 2012, reasonably calculated to accomplish the purpose of the trip, would not be interuptive.
Only people who are currently not in status and were not in any lawful status on June 15, 2012 are eligible
A "significant misdemeanor" is one for which the individual was sentenced to more than 90 days, or a conviction for domestic violence, sexual abuse, burglary, firearm violation, drug distribution or trafficking (but not possession), or DUI, regardless of the sentence.
Whether a person has reached age 15, and whether the requestor meets the education requirements, will be determined as of the date the request for deferred action is filed, NOT the June 15, 2012 date.
We have attached copies of the pertinent applications and instructions for your review.