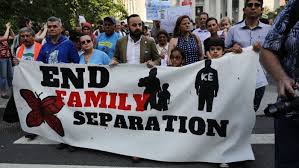 On June 20, 2018, President Trump issued an executive order which, on its face, appeared to reunite immigrant children with their parents from whom they had been separated at the border. In reality, the order created additional chaos and revealed the incompetence, disarray and lack of leadership of the current administration. The government was unable to meet the court-imposed July deadlines for reunification, and the court then granted an extension. The Trump administration vowed to take all necessary efforts to reunify the families and indicated that it was fully committed to the process. Two months have passed since Trump issued his executive order. The question remains, "How far have we come in reunifying those families?"
At the present time, there are approximately 700 children who had been separated at the border. They have not yet been reunited with their parents. This figure includes more than 40 children who are 4 years old and younger. To date, 1,923 out of 2,654 children identified as being separated have been reunified with their parents. In an effort to reunify all families, there is an ongoing lawsuit over the administration's separation of immigrant families at the border. A federal judge has ordered the administration to reunite all of the families, unless there are concerns that reunification would place the child in danger.
Although the administration's handling of this issue is far from perfect, it has improved greatly since the court granted the extension in July. In a recent hearing, District Court Dana Sabraw said the progress was "very encouraging." Sabraw explained, "[t]here's real progress being made and real effort being made in some of these home countries, Guatemala and Honduras. It looks like … everything is being done to locate as many of these parents as can be… [I]ndications to the court [are] that efforts on the ground are productive and certainly headed in the right direction."
Still, the process of reunifying all of the families is far from complete. There are 528 children in government custody who have not been reunited with a parent, including 23 who are under the age of 5. The ACLU argues that the pace of reunification remains unnecessarily slow. The ACLU points out that 412 parents have been deported without their children – a group that has remained the most difficult in the reunification process. There is also a dispute about how many parents have actually been located. While the administration argues that only 4 parents in total have not been "contacted," the ACLU counters that 231 parents were reached, either by phone or in person. In court, the Justice Department attorneys primarily attributed the discrepancies to out of date information.
Additionally, two immigration and advocacy groups have filed a lengthy complaint with the Department of Homeland Security's watchdogs. The documents describe numerous instances of parents being coerced and intimidated into agreeing to their own deportation. American Immigration Lawyers Association Executive Director Ben Johnson explained that the situation extends far beyond merely separating families. Johnson stated, "This really is a systematic and intentional effort to take children away from their parents and hold them hostage in order to sabotage their right to seek asylum in the United States and to then use them as a threat to (others) who are contemplating coming to the United States to apply for asylum. This kind of abuse is only possible because it just does not have the adequate protections to guard against this kind of conduct and abuse."
Where do we go from here?
The issue of reunifying children with their families is complex and multi-faceted. There is little doubt that the Trump administration's methodology and efficiency for reunifying families need improvement. In addition, it is virtually impossible to determine the extent to which families have been coerced into agreeing to their own deportation. On the other hand, the government has made tremendous strides since the June hearing before Judge Sabraw. As we move forward, we must remain committed to protecting the best interests of all children involved.
For More Information
Navigating the intricacies of the legal side of applying for a visa is as tough a task. Schedule a meeting with the Pollak legal team today –– we have the insight and the experience to ensure you the best legal counsel for your situation.
––
Karen-Lee Pollak is the Managing Attorney at Pollak PLLC located in Dallas, Texas. She is a frequent speaker, author and blogger on immigration issues. She can be reached at karenlp@pollakimmigration or under her twitter handle law_immigration.