Feature Documentary about "Americans by Choice" Premieres Tomorrow on History Channel. The History Channel will premiere the documentary THE NATURALIZED tomorrow, December 15th at 10am & 4pm EST, and on December 18th at 8pm EST.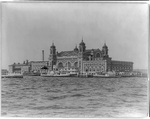 THE NATURALIZED weaves together the lives of different people from different countries who all share a quest for American citizenship by choice, not birthright. This documentary travels from a citizenship class in San Jose to a naturalization ceremony in Iraq. Along the way, there's unprecedented access to the United States Citizenship and Immigration Service, revealing the complex process up-close, including a marriage interview and the one-on-one Citizenship Exam. How many amendments are in the Constitution? To become American, not knowing is not an option.
Contemporary stories of struggle and success are combined with insightful interviews from notable naturalized citizens like Fareed Zakaria, Alan Cumming, David Rakoff and Isabel Allende. THE NATURALIZED was directed by Emmy® award-winning documentary filmmaker Aaron Lubarsky and produced by Flicker Flacker Films, in association with Jon Stewart's Busboy Productions and A&E IndieFilms. Flicker Flacker Films is a Brooklyn-based production company specializing in documentary film and television production. Aaron Lubarsky co-directed and edited the HBO documentary JOURNEYS WITH GEORGE and the duPont award-winning documentary SEOUL TRAIN.